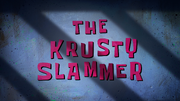 This article is a transcript of the SpongeBob SquarePants episode "The Krusty Slammer" from season twelve, which aired on January 27, 2019.
Transcript
[The episode begins with Plankton vandalizing the Krusty Krab with red paint.]
Plankton: [cackling] Yes! My plan is working! [throws away paint brush and throws a bucket full of paint at the restaurant's windows] Now everyone in town will know what a jerk Krabs is. Yeah! [the scene pans out to reveal that he drew pictures of Mr. Krabs and wrote threatening messages all over the restaurant and all of Bikini Bottom; as he laughs evilly, a police woman comes in and handcuffs him] Huh?
Lady officer: Hey, you! [pokes him with her batting stick] You're under arrest.
Plankton: Arrest? For what? I didn't even steal anything this time.
Mr. Krabs: Vandalism's a crime too. You've been caught red-handed, Plankton.
Plankton: Eh, should've used the green paint.
Mr. Krabs: I usually laugh all the way to the bank. [rubs Plankton's cheeks] But for you, Plankton, I'll laugh all the way to the clink! [laughs as he escorts the cop to the Bikini Bottom Jail where she will lock up Plankton]
Lady officer: Oh no, the prison is full! [the scene shows Bikini Bottom Jail completely overcrowded with criminals] Looks like we'll just have to set you free.
Mr. Krabs: [his jaw dropped in shock] What, free?! But he's a criminal!
Lady officer: Well, you know what they say. Don't stop the crime if you can't enforce the time.
Plankton: [laughs as he escapes the handcuff's clutches] Eat it, Krabs! I'm off to re-offend. [leaves with a paint brush]
Lady officer: It's a shame that there's no other place in Bikini Bottom to hold our extra criminals. 'Cause we'd give that place a lot of money. [holds out a pile of money]
Mr. Krabs: [giggles as his head changes into a gold coin; he shakes the officer's hand] You got yourself a deal! [stomps on Plankton so he wouldn't escape] We can lock him up at my place, [pulls Plankton back] the Krusty Krab.
Lady officer: Well then, [holds up a shackle with an iron ball] this is for the prisoner. [crushes Plankton with the iron ball] And here's your cash. [hands Mr. Krabs the pile of money]
Mr. Krabs: [gasps] Whoa. [giggles as he takes the money pile and makes a coat out of them; he puts on his money coat] Thank you, Madame Officer.
[Mr. Krabs takes the iron ball and rolls Plankton over to the Krusty Krab. Meanwhile, Squidward is busy scraping gum off under one of the tables.]
Squidward: Oh, stupid barnacles, tartar sauce, fish paste—
[The iron ball rolls through the front doors and flies into Squidward's face. Squidward, in form of bowling pins, is sent flying over to the register boat.]
Mr. Krabs: [cackles] Enjoy your ride, Plankton? [steps on Squidward's hand]
Squidward: Ow.
Mr. Krabs: [gasps] Oh, sorry, Mr. Squidward. Didn't see you there.
[The iron ball falls on Squidward and crushes his head.]
SpongeBob: Oh, what's Plankton doing here, Mr. Krabs? I thought he was going to prison. [lifts the iron ball off of Squidward]
Mr. Krabs: He is. The Krusty Krab is a prison now. [laughs]
SpongeBob: [in a prisoner outfit while holding Plankton and a pennant that reads "Prison"] Oh, hooray! Prison!
Squidward: [blows air back into his head] Oh, big deal. I've been a prisoner here for years.
Mr. Krabs: [plugs a plunger in Squidward's face] Hardy-har, Mr. Squidward. [gives SpongeBob a bucket of cleaning supplies] You boys get back to work! [grabs Plankton] I'll be guarding Plankton in me office. [cuts to Mr. Krabs putting Plankton in a birdcage in his office] Into your cell, you miscreant! [places Plankton in the cage and crushes him with his iron ball]
Plankton: [shakes his head to pull himself together] All right, I'm out of here. [hops on the iron ball] Uh, pardon me, warden, sir, but is that a pretty penny on the floor?
Mr. Krabs: [rips his magazine and hops off his desk] Where? It's mine! It's mine! I saw it first! [searches the floor for the "penny"]
Plankton: [laughs as escapes the birdcage and heads for the door] The perfect escape. [all of a sudden, he gets clamped by a foothold trap set up by Mr. Krabs] YEEOOWW!!! [struggles to break free, but is lifted up by Mr. Krabs]
Mr. Krabs: Oh, no you don't. [blows air into Plankton to straighten him out] Trying to escape is bad enough, but lying about a penny? You're going in... [through his eyelids] ...the hole. [goes over to SpongeBob, who is washing the register boat with part of his spongy body] Need one of your holes, boy-o.
SpongeBob: [puts his spongy body part back in place and takes off his hat] You got it, Warden Krabs.
Plankton: Hey, let's not do anything we can't— [gets dropped into SpongeBob's body by Mr. Krabs]
Mr. Krabs: And don't let him go nowhere!
SpongeBob: Aye-aye, sir! [plugs his head with a cork]
Plankton: [inside SpongeBob's body] All right, who turned off the lights? [pounds inside SpongeBob's body]
SpongeBob: [laughs] Sorry, sir. Plankton tickles inside of me. [giggles]
Mr. Krabs: That oughta learn him.
Lady officer: Morning, Warden.
Mr. Krabs: Oh, me favorite paying police lady. Here to give me more money?
Lady officer: Yup, more money for more prisoners.
Mr. Krabs: More prisoners?
[A prison truck pulls over and drops off a group of prisoners.]
Prisoner #1: Aye, the Krusty Krab. I used to eat here.
Prisoner #2: What a coincidence. I used to rob here.
[As prisoners line up, a pile of money is given to Mr. Krabs by the police woman.]
Lady officer: So, what do you say, Mr. Krabs?
Mr. Krabs: [laughs wildly and takes the money] I say... lock 'em up! [picks up some money he dropped as the police woman leaves] SpongeBob! Try to prison-up the place for our new guests. I gotta go incarcerate all this cash. [giggles as he enters his office]
SpongeBob: I'll do my best, Warden Krabs, sir!
[SpongeBob goes to redecorate the Krusty Krab as Mr. Krabs picks up some money he dropped outside his office. The scene changes SpongeBob wearing a police hat and a badge while holding the keys. He is walking around and singing to himself. Moments later, Mr. Krabs comes out and takes a look at the Krusty Krab. The restaurant is now redesigned with prison cells for prisoners to sleep in. The Krusty Krab is now dubbed the Krusty Slammer. As prisoners are in their cells, they watch the regular customers eat their meals.]
Mr. Krabs: [whistles] Nice work, boy-o. Very prison-y.
Fred: Hey, uh, what's with all the caged men in here? [a prisoner grabs him by the neck and chokes him] They're making me a little nervous...!
Mr. Krabs: Ooh, um, well we're a prison-themed restaurant now. [secretly makes something with a pencil] Do your time with our new Prison Patty. [holds up a Krabby Patty in a poorly drawn prison-themed box] It's served in a solitary confinement box, has its own prisoner number, and even comes with toy shackles! [holds up a plastic toy shackle]
Fred: Wow!
Prisoner #3: [chokes Fred really hard] Looks delicious.
Mr. Krabs: At the Krusty Krab, you can lock up your hunger and throw away your keys! [the customers chatter in delight] Uh-huh, uh-huh, uh-huh. Ooh, crisis averted. Okay, time to let Plankton out of the hole. Open her up, boy-o. [SpongeBob removes his hat and unplugs his head] Hmm. [peaks in and sees Plankton becoming hysterical and is mentally going insane; Mr. Krabs reaches in SpongeBob's body and pulls Plankton out] Pull yourself together, prisoner! [slaps Plankton] I got a new cell for you.
[Mr. Krabs takes Plankton back into his office, removes the secret formula from the bottle, and places him inside the bottle.]
Plankton: [sees the formula outside the bottle] The formula?! It's so close... I can almost touch it! No, no, no, no!
Mr. Krabs: [cackles] Good times. Good times.
[The scene changes to nighttime at the Krusty Krab aka Krusty Slammer. The whole place is barricaded with barbwires and steel walls. A search light is shining all over to place to make sure that none of the prisoners escape. SpongeBob comes in with a cart full of mail for the prisoners.]
SpongeBob: Okay, mail call, boys. Let's see, who do we have? [pulls out some letters] Toothy. [gives a letter to Reggie] Four Eyes. [gives a letter to a prisoner with four eyes] Lefty. [gives a letter to prisoner who is facing left] Fats. [gives a letter to a skinny prisoner] Fingers. [gives a letter to a prisoner with loads of fingers all over its body] Einstein. [gives a letter to a floating brain with a mustache; quickly reads off names while throwing letters at a fast pace] Stretch, Chuckles, Bingo, Blammy, Wheels, Boogie, Red, Trip, Winks, Skeeter, Stinky.
Prisoners: Thanks, SpongeBob!
SpongeBob: No problem, guys.
[SpongeBob rolls the mail cart away. Mr. Krabs is busy continuing his non-stop torture on Plankton. He spins Plankton up and down like a yo-yo. Then he paddles him back and forth like a paddle ball. Then he stretches him and uses him as a jump rope. Just then, the police woman comes in.]
Mr. Krabs: Oh, morning, officer.
Lady officer: I'm here to oversee Plankton's release. [holds up Plankton's release form] His sentence is up.
Mr. Krabs: What?! But I have so many more punishments for him!
Plankton: [laughs as the police woman leaves; he breaks free from Mr. Krabs' fist] Enjoy your Plankton-free prison, Eugene. [runs to the door] I hope it's worth what you're paying for it. [laughs as he exits the restaurant/prison]
Mr. Krabs: Hmm? Paying for it? Wonder what he means by that. Huh?
[Mr. Krabs sees Fred in a high-class cell. Fred is fluffing up his pillow and goes to sleep in a warm, comfy bed. Mr. Krabs wails in a shocking surprise. The Tattletale Strangler is seen with facial cream and cucumbers on his eye lids. He drinks some lemonade and goes back to relaxing. One prisoner is putting suntan lotion on another prisoner's back and gives him a massage. Squidward, in fancy clothing, serves a prisoner a plate full of Krabby Patties.]
SpongeBob: More marshmallows for your hot cocoa, Wobbles? [places marshmallows in a prisoner's mug of hot chocolate; in doing so, the drink forms into dollar signs and splashes back in the mug]
Mr. Krabs: SpongeBob, what are you doing?! [slaps SpongeBob's face with his tongue] Do you have any idea how much it costs to make a prison humane?! These down comforters, they're two-y. [rips a comforter off of Fred's bed, making him shiver] This ain't no luxury hotel! [rips the tube out of a prisoner's hot tub] These televisions ain't free! [rips a television off the wall] And neither are these massage chairs! [takes away the massage chair and replaces it with a barrel, making the prisoner cry like a baby] And this, your most expensive mistake of all! [takes Krabby Patties out of Stickyfins' and Dorsal Dan's mouths and stuffs them into the con man's mouth while reaching in his pocket and steals his money] From now on, no more patties for prisoners!
[The prisoners are outraged at Mr. Krabs' cruel treatment and throw tomatoes at him in retaliation.]
Dorsal Dan: Cruel and unusual punishment!
Mr. Krabs: And no more tomatoes either!
[During the riot, the customers get hit by the tomatoes.]
Female customer: Come on, let's find another prison to eat at.
Customers: [as they exit the restaurant/prison in disgust] What a rip-off! / Come on.
Mr. Krabs: No, no! Come back! Come back! I can't afford to lose me paying customers. Oh, I'm ruined! [sobs] All right, that's it! [pushes a button on a remote and sets the prisoners free] No more prison! Everyone out! [pushes the prisoners out] Don't care where you go, but you can't stay here! [closes the door] Oh, finally. The Krusty Krab is back to being a regular old money-making restaurant. [giggles] Problem solved. [SpongeBob is about to say something against against Krabs' decision, but he cuts him off] I said problem solved! [throws SpongeBob out and heads back into his office in a confident smile]
French Narrator: Later at night...
[The scene changes to SpongeBob's house. A group of strange creatures arrive and sneak inside. SpongeBob is sleeping in his bed and a shadow looms over him. SpongeBob wakes up and screams in fear as if he's seeing a monster. Eyes glow in the dark and surround SpongeBob. He turns on the light and sees that the creatures that came into his house are the prisoners Mr. Krabs kicked out earlier.]
SpongeBob: Oh, it's just my prison pals. What are you guys doing here?
Prisoner #4: We want to go back to the Krusty Krab. We were having fun in there with you. See? [shows a tattoo of himself hugging SpongeBob]
SpongeBob: [out of sympathy] Aww. Okay, I'm in. Time for a jail-break-in.
French Narrator: The next day...
[The scene changes the morning at the Krusty Slammer. Mr. Krabs enters the restaurant and prepares to open it for the day, when suddenly...]
Prisoners: Morning, Warden Krabs!
Mr. Krabs: Morning, prisoners! [gasps in horror as he sees the prisoners back in their cells] SpongeBob! What is going on here? I set all these criminals free last night! What are they doing back in their cells?!
SpongeBob: Uh, Mr. Krabs, now's probably not the best time to—
[Too late. The police woman had overheard everything Mr. Krabs said about releasing the prisoners the previous night, as he shrinks back in fear. She is seen sitting at a table eating her Krabby Patty.]
Lady officer: You know it's a crime to release prisoners early, don't ya? [eats her patty and approaches Mr. Krabs who realizes his error] You're going to prison, [handcuffs Mr. Krabs] criminal.
Mr. Krabs: What? Oh, well, that's not so bad. Pencil me in for a 3:30 massage, SpongeBob.
Lady officer: [takes Mr. Krabs away] Oh, you're not staying here. The Krusty Krab is full. We got a new prison just for you.
Mr. Krabs: [sadly] Oh, no... Let me guess...
[The scene changes to the Chum Bucket where Mr. Krabs is wearing his prison outfit and is placed in the same birdcage he used for Plankton. Mr. Krabs groans sadly.]
Plankton: Mealtime, prisoner! [laughs while throwing spoonfuls of raw chum in Mr. Krabs' face in an act of revenge for the all the painful torture he endured; Mr. Krabs cries in an agonizing defeat right before Plankton throws some chum into his mouth] Right in the mouth.
Community content is available under
CC-BY-SA
unless otherwise noted.