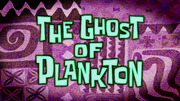 This article is a transcript of the SpongeBob SquarePants episode "The Ghost of Plankton" from season twelve, which aired on October 12, 2019.
Transcript
[The episode begins at a spooky haunted house. A scared woman frantically runs from an old lady ghost. She goes to hide in a room and locks the door. However, the ghost floats through the door and corners her inside.]
Unnamed woman: Grandma! No! [screams as the ghost engulfs around her]
[The screen pans out to reveal it is just a scary horror movie Plankton is watching from Karen's monitor.]
Plankton: [laughs] Get her, Grandma! [laughs as he gets covered in the blanket] I'm the ghost of Plankton! Wooo! [trips over the sofa's armrest, removes his blanket and a lightbulb lights up above him] Hey, that gives me an idea. [hops onto Karen and changes the screen to make the blueprint of his plan] Hmm, if I were a ghost, I could walk right through the walls of the Krusty Krab and take the Krabby Patty secret formula! [giggles]
Karen: [turns the lights on and shakes the blueprint screen off] Ah! All right, that's it! You ruined another movie night with your secret formula garbage. [drops Plankton] I'm pulling the plug. [pulls the plug and shuts herself off]
Plankton: [groans as he stand up; waves his hand in anger] Ah. Let's see. Now all I need to do is invent a... [pulls a red curtain for a few seconds and pulls it back to reveal a skull-shaped machine] Ghost extracting machine! [laughs as he turns on the machine and hops in]
[Two robot arms come down with a squeezer tube people use for icing bags. They put it on Plankton's head then roll him up like a tube of toothpaste. Out of the squeezer is a green substance. It floats up and morphs into Plankton. Plankton has now become a ghost.]
Plankton: [looks at his dead body and whistles] I look like I just saw a ghost. [flies through the Chum Bucket doors and laughs] Success! [floats over to the Krusty Krab, flies through the front doors, and happily goes into the safe in Mr. Krabs' office] You gotta give up the ghost if you wanna make toast. [tries to pick up the secret formula, but fails] What?! [tries it numerous times, but also fail] No, no, no! Stupid ghost hands! [sobs frantically at his unsuccessful attempt until he hears laughing outside] What? [comes out of the safe and sees the Flying Dutchman laughing hysterically] What's so funny? Stupid ghost!
Flying Dutchman: You are, that's what. You can't just float in on your first day and pick things up. [laughs as he shrinks smaller; then he floats into the safe and picks up the bottle] Here you go. [the bottle floats through Plankton] Oh, grab it. [taunts Plankton with the bottle] Grab it! Get it! [laughs]
Plankton: I can't grab it! [wheezes]
Flying Dutchman: I like you, squirt. I got a soft spot in me heart of thieves [opens his chest, pokes a hole in his old heart and it deflates] I can teach you how to pick things up.
Plankton: [squeals happily] I love you.
Flying Dutchman: But first, you need to learn the "basics" of being a ghost.
[Plankton and the Flying Dutchman share a good laugh. The Flying Dutchman magically makes a gong appear and rings it onto Plankton.]
Flying Dutchman: First lesson... Shape-shifting. [cuts to behind the Krusty Krab] Shape-shifting is one of the easiest things a ghost can do. You just have to think of a horrible thing and poof! [changes into a monster, a walrus, a rattlesnake, a bat, and a Pearl look-alike; then he talks in Pearl's voice] You become it!
[Plankton screams in terror at the Flying Dutchman's shape-shifting abilities.]
Flying Dutchman: [changes back] Now, you try.
[Plankton gives his shape-shifting ability a try. However, he turns into an odd-looking shape.]
Plankton: I did it!
Flying Dutchman: [facepalms in annoyance] That's not horrible! What were you thinking?! [takes out a sprayer and sprays Plankton] Bad ghost! Bad!
[Plankton coughs and changes into an exact copy of the Flying Dutchman, but with one eye.]
Flying Dutchman: Hmm. Now, that's horrible!
Plankton: Now, can you teach me how to pick things up?
Flying Dutchman: Not yet. [snaps his fingers as a mallet appears and whacks Plankton on the head] Next lesson, scaring. [cuts to a dark alley] Pay close attention, squirt. This is how you scare someone.
[A robber runs down the alley with a bag of money. He hears some scary noises from behind and becomes scared. Just as he turns around, the Flying Dutchman lets out a devastating roar and makes a horrifying face. The robber screams in fright as he clothes, skin, muscles, and skeleton fall apart, leaving only his brain, eyes, nervous system, and stomach. Then he turns around and runs away.]
Plankton: Okay, my turn! [gives the Flying Dutchman a friendly punch in the stomach] Shh. Someone's coming. [floats toward a mirror] Watch me scare this dummy real good.
[Plankton turns around and makes a scary face while roaring real loud. But it turns out that he's scaring his own reflection. He screams in terror as his ghost skin splits apart, leaving his ghost skeleton and ghost eye. He floats behind the Flying Dutchman.]
Flying Dutchman: Well, you scared yourself. I guess that counts. [takes out a golf club] Next lesson. [hits Plankton's ghost skeleton and ghost eye back into his ghost body] Haunting houses. [cuts to Squidward's house as thunder roars in background and Squidward is sleeping in his bed] All right, pupil, it's time to apply all you've learned and frighten this guy's legs off.
Plankton: With pleasure.
[Plankton floats into Squidward's bed and possesses it like a puppet. The bed turns green and the box spring turns into Plankton's head. Plankton's eye appears about Squidward. Plankton shakes the bed and chuckles evilly as Squidward begins to wake up.]
Squidward: [screams] Who's there? Ohh, is that you, SpongeBob? [gets up and gets drenched on by green ectoplasm]
[Squidward removes his blindfold and becomes freaked out by the ectoplasm. Suddenly, the box spring forms into a giant mouth and makes an evil laugh. Squidward becomes so scared that his skin turned white. He tries to escape, but Plankton pulled him under the covers. Squidward releases himself from the covers and hides in the drawers.]
Flying Dutchman: [writing down his clipboard] Oooh. Monster mouth with a bucket of ghost goo—very good marks. [chuckles] Nice haunt, swabby!
Squidward: [comes out of the drawer with his clarinet and pants heavily] Oh, what a terrible nightmare. Oh, thanks for being here, Clarry. You'll keep the monsters away. [inhales and blows horrible music out through his clarinet]
[Squidward's clarinet playing drives Plankton and the Flying Dutchman crazy. Plankton floats over to Squidward and grabs the clarinet.]
Plankton: Give me that!
Squidward: Clarry!
[Squidward and Plankton get into a tug-o-war with the clarinet. Plankton turns into a ghostly SpongeBob and scares Squidward. Squidward runs out of the drawers and gets hit in the head when he crashed into the ceiling. Squidward falls down to the floor and is knocked out unconscious. Plankton throws the clarinet away and changes back.]
Plankton: Hey, I picked something up! I can pick things up! [picks up a vase and drops it]
Flying Dutchman: Look at you. You skipped ahead to the last lesson! [pulls out a mallet]
Plankton: It's okay. You don't have to—[gets hit by the mallet]
Flying Dutchman: Last lesson! How to pick things up. [cuts to Plankton and the Flying Dutchman exiting Squidward's house] As you discovered, to pick things up, you gotta get [gets fired up] really angry!
Plankton: Why didn't you say that before in the first place, moron?!
Flying Dutchman: I have nothing left to teach you. [tips his hat and bows]
Plankton: Oh, yeah? [forms into a ghostly mallet and hits the Flying Dutchman in the head]
Flying Dutchman: [sniffs] My boy.
[Plankton laughs and re-enters the Krusty Krab to try to steal the formula again. He makes an evil laugh and warms himself up.]
Plankton: Oh, I'm really angry! Here we go! [floats into Mr. Krabs' office] Yup! [enlarges his hand and successfully grabs the bottle; he lets out a happy squeal and laughs; then he tries to take it out, but the bottle is too solid] Blasted bottle! It's always something! [the Flying Dutchman laughs] What?
Flying Dutchman: Guess you didn't think that one through all the way, did ya?
Plankton: Dead jerk. [floats away in anger as the Flying Dutchman laughs; he exits the Krusty Krab] Well, I'm calling it. This ghost racket is for the birds. I'm going back to my body where I belong. Hmph! [goes back to the Chum Bucket and sees the light lit inside] Huh? I don't remember leaving the lights on. [enters the Chum Bucket] Wha—huh?! [much to his shocking dismay, he sees a funeral of himself being held; he sees his dead body in a small coffin] Yeesh. You can't leave your own carcass alone for ten minutes in this town!
Karen: And now, if anyone has anything nice to say about Sheldon, this would be the time.
[Tom snickers silently, but a mourner behind tells him to be quiet.]
SpongeBob: [walks up to the alter in tears] Um, Plankton was small and...[sniffs] And green and loud! [cries hysterically]
Karen: [comforts SpongeBob as she and Patrick take him back to his seat] All right, come on. It's okay.
Plankton: Yeesh. This is the worst funeral of mine I've ever been to. [grins evilly] But watch these idiots scream when I get back into my body and jump out of that coffin.
Flying Dutchman: [laughs as he appears through the floor in his ship] Ya can't go back in your body now. You're dead, ya dodo!
Plankton: I'm not dead. I'm just a temporary ghost. My body is in suspended animation, that's all.
Flying Dutchman: [giggles as he floats over to Plankton's dead body] You mean, this is an empty vessel? I haven't possessed a body in years!
Plankton: You can't do that! That's my body!
Flying Dutchman: Not anymore! [floats into Plankton's dead body and opens his eye; he sits himself up] Rarg! I'm alive! It's great to be back!
[All the mourners who attended Plankton's funeral gasp in a horrified surprise.]
Plankton: No!
Flying Dutchman: [jumps off the table and dances around on the floor] Ta-da!
SpongeBob: [sniffles as he cries a coffin full of tears; he stops crying] Plankton's alive? Hooray!
Karen: [angrily closes the coffin on SpongeBob] I knew it!
Incidental 67: He's alive?!
[All of the mourners get really angry. They assume that Plankton had been playing a cruel joke on them by pretending to be dead.]
Old Man Jenkins: Let's squash him!
[All the mourners gather around the Flying Dutchman in Plankton's body and prepare to attack him as payback for supposedly tricking them.]
Flying Dutchman: [continues dancing around] ♪Dee, dee, dee, dee, da, da, dee, dee, dee, da!♪ [stops dancing as he sees an angry mob around him] Wuh-oh. [screams in an attempt to scare them; but fails] Eh? Reowr? [the angry mob starts crushing him with their feet]
Plankton: Oh! I can't watch them do that to me!
Flying Dutchman: [escapes the angry mob and removes Plankton's dead body] Here! Take it! [gives Plankton his dead body] Those people are angry. Whew! I never thought I'd say this, but I'd rather be a dead me than an alive you. Bye! [disappears]
Plankton: [reenters his dead body and checks to see if everything is fitted; he sighs in relief] My body feels great!
What Zit Tooya: There he is!
[The angry mob gather around Plankton with angry looks on their faces.]
Plankton: [whimpers and laughs] Hey, everybody. [laughs nervously] Uh, who wants to hear a ghost story, huh? [laughs] Anyone? [gets stomped on by the angry mob] You know something? [gets stomped on] Ooh! It's great to be alive. [gets stomped on] Ouch! [gets stomped on] Ha, ha!
Flying Dutchman: The end! [makes a scary face while turning his head and laughs evilly as the episode ends]
Community content is available under
CC-BY-SA
unless otherwise noted.