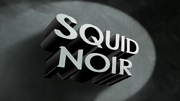 This article is a transcript of the SpongeBob SquarePants episode "Squid Noir" from season eleven, which aired on November 10, 2017.
Transcript
[The episode begins at the Krusty Krab. Squidward is playing his clarinet very poorly and is driving the customers crazy.]
Harold: [pulls out his eyeballs and plugs his ears] Ah.
Nat Peterson: Make it stop! Ah! [crashes into a pole]
[Mr. Krabs exits his office and hears the horrible music Squidward's playing.]
Mr. Krabs: Oh. [sprays pest spray on the sour notes and groans] Mister Squidward! Quit that calamitous cacophony! You're driving me customers batty!
[Tom growls and crushes his drink in anger.]
Squidward: [pulls his clarinet out of his mouth] Well, I'm sorry you rubes can't enjoy jazz. I am practicing for a very important open mic night tonight.
Mr. Krabs: Well, practice somewhere else! This here's a jazz-free zone! [slaps Squidward hard, then holds his head to a "no jazz" sign]
[An eel customer sobs and walks out after being offended by the "no jazz" sign. Mr. Krabs lets go of Squidward and his head spins around.]
Squidward: [jibbers] Fine! I'll take my music to the other people then. [shoves his hat on Mr. Krabs' head]
Mr. Krabs: [pokes his eyes out through the hat] And if I see that clarinet again, it'll be going into the woodwind chipper! You hear me?
[Squidward grumbles as he leaves the Krusty Krab. Squidward walks up to the "Near Mint Comic Books" store where Bubble Bass is talking to his friends.]
Bubble Bass: As you can see, this is the first generation Talking Suburban Dad figurine, with realistic burger-flipping motion.
Suburban Dad Toy: Not right now, Billy. Daddy's had a long day.
Bubble Bass' friends: Ooh.
[Suddenly, their moment was interrupted when Squidward's sour music annoys them. It also makes Bubble Bass drop his action figure and it breaks its arm.]
Bubble Bass: Suburban Dad! No! [walks out and sees Squidward] You? [jumps up and slams on Squidward; Squidward crawls comes out injured] You—will remove that subpar woodwind from the premises, ere I smash its reed!
[Squidward pulls himself out of Bubble Bass and rolls back home. He crashes at his door, with his clarinet pierced through the door. Squidward falls down to the ground and pulls his clarinet from the door.]
Squidward: Can't practice anywhere in this town. [slams the door] Bunch of tasteless clowns! [grumbles and plays his clarinet outside his house's window]
Patrick: [playing with rocks] Smashy, smashy! Bang, bang! Sma–oh! [covers his ears] Ow! What is that noise? [looks up and sees Squidward playing his clarinet] Oh, no. Squidward's being attacked by that pointy screeching monster. Don't worry, Squidward! I'll save you! [throws a rock]
Squidward: [stops playing] What are you– [gets hit by the rock and crashes inside his house; appears without a head] Hm? Uh? Hm? [his head is pinned to the mantelpiece and his clarinet has a rock lodged in its mouth] Oh!
Patrick: You're welcome!
[The scene changes to Squidward about to put his clarinet on a pillow while he prepares to take a little nap.]
Squidward: [humming] It's time for our pre-performance nap. Tonight, we change lives with our music. [kisses his clarinet, puts it on a pillow and leaves to take a nap]
French Narrator: One nap later...
Squidward: [appears in a suit] Are you ready, my dear? We've got the– [gasps and screams]
[His entire living room has been damaged and his clarinet was stolen. The episode's background color turns into black and white.]
Squidward: [narrating] And that's how it began. My life smashed to bits. My living room covered in broken dreams. Without my clarinet, the world was a drab and colorless place. [picks up the pillow and hears SpongeBob giggling outside] And that's when I saw him, my first suspect. [SpongeBob is playing in the puddles] When it comes to paying the stupid bill, SpongeBob always tipped 20%. [SpongeBob puts sand in his head and drains it out of his holes] He had to be involved. [walks over to SpongeBob] SpongeBob, what have you done with my clarinet?
SpongeBob: Ooh, Squidward, you're so hard-boiled. Are you playing a game? Oh, oh, can I play?
Squidward: I know you stole my clarinet! Tell me [slaps him] where! [slaps him again] It! [slaps him again] Is!
SpongeBob: [slaps himself] I [slaps himself again] Don't! [slaps himself again] Know! [giggles] It couldn't have been me, Squidward. I have an alibi. I was at Grandma's house all day and I have the kissy marks to prove it, [points to the kissy marks on his head] see? There's room for one more.
[Squidward is grossed out and he pushes SpongeBob away.]
Squidward: [narrating] His alibi was solid. Only a family member could stomach putting their lips on this fool.
SpongeBob: You know, we have lots of friends. Maybe they could help us find your clarinet.
Squidward: I don't have friends. I have suspects.
SpongeBob: Oh, Squidward, don't you know a suspect is just a friend you haven't cleared of charges yet? [gets pushes down by Squidward] So... can I help you solve your case? Please, please, please?
Squidward: Try not to get in the way.
SpongeBob: Yeah! It's a play-date! I mean... [changes into his detective clothes] All right, I'll partner up with you this time. [flips a coin and it disappears] Huh?
[The scene changes to Squidward and SpongeBob driving in the streets as rain pours down.]
Squidward: [narrating] My... [clears throat] partner and I decided to check out my next suspect, the owner of a local greasy spoon. I figured a little "Good cop, bad cop" would get his jaw flapping so I–
SpongeBob: [narrating] Oh! Can I be the bad cop? Please, please, can I, please?
Squidward: [narrating] Yes, if you get out of my hard-boiled narration!
SpongeBob: [narrating] Sorry. [flips coin]
[They drive up to the Krusty Krab. They walk up to the front doors. SpongeBob flips a coin and the coin disappears.]
SpongeBob: Huh? [gets pulled into the restaurant by Squidward]
[Mr. Krabs is in his office playing with his money.]
Mr. Krabs: What the–
[Squidward comes in and kicks away the desk.]
Squidward: Hey, Mister Krabs, how are you doing? Can I get you some tea? Do you mind if I ask you a few questions? [gives Mr. Krabs a cup of tea and he sips it] Now, where were you earlier–
SpongeBob: You seem hungry, dear. Home-cooked meal? [gives Mr. Krabs a microwavable meal]
Squidward: What are you doing, SpongeBob? [clears throat and pulls out a nail filer] Manicure?
Mr. Krabs: Huh? [gets his claw filed by Squidward]
SpongeBob: [pulls in a makeover] Makeover? [puts Mr. Krabs in the makeover machine, and out comes Mr. Krabs with a long, blonde wig. SpongeBob sprays him with "Make Up in a Can" afterward]
Squidward: Warm blanket? [puts the blanket onto Mr. Krabs]
SpongeBob: New shoes? [pushes Squidward]
Squidward: Hey!
[SpongeBob puts shoes on Mr. Krabs' feet.]
Mr. Krabs: [rips the blanket] Enough!
SpongeBob: Hey, check out the dame.
[Mr. Krabs now appears as a woman. Squidward is grossed out at the appearance and nearly throws up.]
Mr. Krabs: What in the salty seven seas are you two doing?!
SpongeBob: Oh, uh, we're playing "Good cop, good cop." Sorry, Squidward, I don't know how to be the bad cop!
Squidward: [grabs and pulls down a hanging lamp over Mr. Krabs] We're looking for my clarinet, Eugene. I know you broke into my house this afternoon! I know you stole it! Now fess up!
Mr. Krabs: This afternoon? Well, I was–I've been here all day, counting me money! Just look at me butt groove! [points to his chair with butt grooves]
SpongeBob: [rubs his finger onto the butt groove] Good contours. [pushes on the seat] And still warm. Story checks out. [sniffs his finger, but notices it is extremely smelly]
Squidward: All right, Mr. Krabs, we'll mosey along this time. [leaves] Come on, SpongeBob.
SpongeBob: Mm, hmm. [leaves as his eyes extend; he pulls them back]
Mr. Krabs: Boys, if you two do find that clarinet, could you bring it to me? So I can smash it to pieces!
[The scene changes Squidward and SpongeBob pulling up to the "Near Mint Comic Books" store to ask their next suspect.]
Squidward: [narrating] We pulled up to the local dweeb market, where I hoped to find my next suspect: maven of all things moronic, Bubble Bass. The sign said closed, but I could hear their nerdy murmuring inside.
[Bubble Bass is playing a board game with his friends inside the store.]
Bubble Bass: And then, from the depths of the barbeque, comes the ferocious, fire-breathing [pulls out his suburban dad action figure] Dad!
Squidward: [kicks the door] Bubble Bass! [his foot cramps up] Ow!
Bubble Bass: Huh? [runs away]
SpongeBob: [stops Squidward from chasing Bubble Bass] Squidward, wait! [pulls out his Mermaid Man action figure] Let him handle this.
[The scene becomes an imaginary action show where SpongeBob's Mermaid Man action figure chases Bubble Bass's Suburban Dad action figure. They climb up the book shelves, knocking over several comics.]
Suburban Dad: [throws actions figures] Take that! And that! [Mermaid Man punches them away] What? [he gets corned to the edge] All right. You've got me cornered. But I won't give up without a fight!
Mermaid Man: I was hoping you'd say that.
[Mermaid Man and Suburban Dad go head to head with one another.]
Squidward: [narrating] It was a real knockdown, drag-out fight. Or it would've been, if it hadn't been just two sad adults playing with toys.
Bubble Bass: Wait. Wait! Roll the dice. Did his punch land?
Bubble Bass' friend: [rolls the dice] It's a hit!
[Mermaid Man punches Suburban Dad. Suburban Dad falls but is grabbed by Mermaid Man.]
Suburban Dad: Huh? Oh. [exhales]
SpongeBob: Where were you this afternoon? Where's Squidward's clarinet?
Bubble Bass: I don't know what you're talking about. I was here all day. I swear it!
[Mermaid Man loses his grip and the Suburban Dad action figure falls and breaks into pieces.]
Suburban Dad: Billy, don't make me turn this boat around.
Bubble Bass: No! I still could have passed you off as near mint! [sobbing]
Bubble Bass' friends: [walk up to comfort Bubble Bass] Aww. So, sorry, man.
SpongeBob: I am so sorry for your loss.
Squidward: I'm not. Come on, SpongeBob, let's go. This is a dead end. [leaves with SpongeBob]
[The scene changes to Squidward's house.]
Squidward: [walk in and wrings out his hat] Well, there's only one more person on my list of suspects.
SpongeBob: [flips a coin] Patrick Star?
Squidward: Um, yeah, how'd you know?
[SpongeBob points to Patrick, who is eating some goo at the crime scene of where the Squidward's clarinet was taken.]
Patrick: Hey, guys!
Squidward: Well, the criminal returns to the scene of the crime. Spill the beans, Jack! Where's my clarinet?
Patrick: I don't know who Jack is! But I would like some beans!
Squidward: Let me lay it out for you, Chucko. When I took my nap today, you broke in through the window, smashed my living room, got that goo you're eating all over and stole my clarinet!
Patrick: Oh, this isn't goo. It's jelly! The good stuff too, from real jellyfish. [eats some jelly]
SpongeBob: [flips coin] Real jellyfish jelly? You can only find that in one place. That means our thief...
Squidward: Must have been at Jellyfish Fields! Let's go!
SpongeBob: Right behind you, pal. [flips coin and it disappears] Huh? [gets dragged away by Patrick] Whoa!
[The scene changes to Squidward, SpongeBob and Patrick driving to Jellyfish Fields.]
Squidward: [narrating] When we arrived at Jellyfish Fields, I could already hear my clarinet's dulcet tones.
[Squidward, SpongeBob and Patrick pull over, step out of the car and see a giant hive in the middle of the fields. It is revealed that the culprit who stole Squidward's clarinet is a group of jellyfish who are blowing through it to make music.]
Squidward: My baby! [grabs the clarinet from the jellyfish] Ha!
[The episode turns its color back on.]
SpongeBob: Oh! So it was the jellyfish that took your clarinet. But from the sound of it, I'd say they've learned that crime doesn't play! [giggles and Patrick slaps him]
[Squidward plays music with his clarinet.]
SpongeBob: Look, Squidward. The jellyfish are fans of your music.
Patrick: We should solve another mystery now.
SpongeBob: Yeah, uh, how about the mystery of where all my coins went? [flips a coin and it disappears] Huh? [coins fall on him]
Patrick: Solved!
[The scene changes to nighttime. The hive is now a nightclub where jellyfish can dine and watch the show.]
Jellyfish: [a jellyfish thug allows the jellyfish to enter] Thank you.
[The jellyfish sit back and watch Squidward play his clarinet on stage. SpongeBob, Mr. Krabs, and Patrick watch the show while wearing earplugs.]
SpongeBob: Squidward, yeah! Yeah, Squidward! [whistles]
[Mr. Krabs curls his hair and Patrick eats a bowl of jellyfish jelly.]
Squidward: [narrating] And that's how it ended. Clarinet returned. Case closed. Another mystery solved by: Squidward Tentacles, Jazz Detective.
Community content is available under
CC-BY-SA
unless otherwise noted.