Wiki Targeted (Entertainment)
Play Sound
This transcript is not finished!
This page does not have the entire transcript.
It is recommended to add the complete transcript.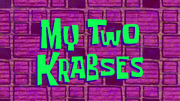 This article is a transcript of the SpongeBob SquarePants episode "My Two Krabses" from Season 12, which aired on January 18, 2021.
Transcript
[The episode starts off at the Krusty Krab.]
Squidward: Ah, it's finally my lunchtime. [cuts to him inside the restaurant holding a paper bag that says "SQT"] My only respite from these cretins and all the slop they call food!
Patrick: [eats his lunch] Hello!
Squidward: Well, let's see what delectable treats I packed myself today.
Mr. Krabs: Yoink! [grabs Squidward's treats] You know the rules, no outside food in me restaurant. Oh, and, uh, Mr. Squidward, I've got a hot date tonight. So don't let no one bother me for the next few hours. I'm gonna be in the tanning bed, [spanks his butt] browning the leather. [laughs and closes his office door]
Patrick: Hello!
[Squidward turns away from Patrick and groans.]
Mr. Krabs: Yeah... see here. [pulls out a box of dried kelp strips] Hmm... dried kelp strips? Nah. [tosses the box and grabs a bottle of reduced fat sea water] Reduced fat sea water? That's weird. [tosses the bottle] Jackpot! Ice cream sandwich!
[Mr. Krabs tosses the bag, takes a bite from the ice cream sandwich, and opens the desk, revealing a tanner inside. He then spins the ice cream sandwich on his finger, then unzips and exits his shell. He puts on goggles and headphones, kicks the ice cream sandwich on the shell's finger, still spinning, and shell-less Mr. Krabs enters the tanner.]
Mr. Krabs: Oooh, nice and toasty in here. [points to his shell] I'll be back for you later.
[Mr. Krabs closes his desk, and the sandwich falls on the shell. The ice cream starts to melt inside the shell. The scene cuts to SpongeBob, who opens the kitchen door.]
SpongeBob: I got a Krabby Patty for my favorite Pat! A patty-pat, for my favorite Pat! [sets the Krabby Patty on the table] Here you go, Patrick.
[Patrick eats the patty, but suddenly stops.]
Mr. Krabs: Oh, mama, it's hot in here!
Patrick: What was that?
Mr. Krabs: Oh, Neptune, I'm melting!
SpongeBob: Mr. Krabs' tanning booth seems to be completely malfunctioning! He could be violently uncomfortable!
[SpongeBob kicks the door to Mr. Krabs' office open, and he and Patrick run inside the office.]
Squidward: No, wait. Don't.
SpongeBob: [screams as he sees Mr. Krabs' shell with melted ice cream] Mr. Krabs! Are you okay?! [starts to cry] Oh, speak to me...
[Mr. Krabs is shown dancing in the tanning bed. The scene cuts back to inside Mr. Krabs' office. SpongeBob cries.]
Patrick: This doesn't look good. [grabs some of the melted ice cream] He melted all over the floor. [eats the melted ice cream] Hmm, strawberry! Poor guy.
SpongeBob: [crying] Oh, Mr. Krabs! He's—he's—he's deeeaaad! [cries in the cash register as Squidward takes a look at Mr. Krabs' shell]
Squidward: [laughs] Oh, oh, look at that. And right before his big date tonight. What a shame. [SpongeBob stops crying]
SpongeBob: A date? [a heart appears in the top of SpongeBob's hands] Oh, must love die melted in my arms too? [the heart melts in SpongeBob's hands and he continues crying]
Squidward: I guess he's just an empty shell of he had used to be.
SpongeBob: Hey, Squidward, you're right! Only Mr. Krabs' inside is melted, his shell is fine! Maybe if we fill his thing back up with organs, he'll be okay.
Squidward: Huh, what the?
[Next shot is of the Chum Bucket.]
SpongeBob: Plankton!
Plankton: I didn't do it!
SpongeBob: We would like to purchase one large Drum of Chum.
Patrick: Extra organ-y.
Plankton: Say what? How do I know that this isn't a plot to steal my secret chum formula? [after a short pause, SpongeBob, Patrick, and Plankton all laugh, then SpongeBob gives Plankton money, and he takes it] Yoink! [Karen takes out the Drum of Chum through the door] Enjoy your chum drum! Yum, yum!
SpongeBob: Thanks, Plankton! We love you! [translates to the inside of SpongeBob's house] Well, alright. Let's put some kick back into this crab!
[SpongeBob takes off the lid of the drum with his leg, and, while he holds Mr. Krabs' shell mouth open, Patrick grabs the chum drum and tries to put it in but makes a mess all over the walls and the floor, then, he puts it in his mouth, and pushes it in then it doesn't work, so Patrick kicks it.]
SpongeBob: Hmm, we're still missing something... [gets an idea] Oh! [takes off his shoes, and starts rubbing his socks on the floor, to produce electricity] A little zaparooni ought to do it. The spark of life! [points at Mr. Krabs' shell with chum and zaps it. And soon, the chum from the chum drum starts to fill the shell, creating a creature named Chum Krabs] He's alive! He's alive! Oh, he's alive!
[Patrick and SpongeBob walk up to Chum Krabs, and Patrick looks very closely at him with his one big eye.]
Patrick: Mr. Krabs seems... kind of dumb now...
SpongeBob: Well Patrick, he has had a rough day. We'll just have to remind him of everything that makes him him again. Don't you worry, Mr. K. We'll have you right back up to speed before you're big date tonight. I promise.
[Chum Krabs tries to speak up.]
(????)
Cheerleaders: Hey! Hey! Hey! Mr. K. We don't want to see your booty today!
(????)
Mr. Krabs: What are you doing, boy-o? It's me, Mr. Krabs, your lovesick employer!
SpongeBob: Lovesick employer? Clean imposter, you mean.
Squidward: [laughs] That's the real Mr. Krabs, you idiots! Oh, and Eugene, your teenage self called. He wants his prom tux back! [laughs]
(????)
(????)
SpongeBob: Sorry for the mix-up, Chummy. You might not have been the real Mr. Krabs, but you can still be our friend.
Chum Krabs: [as he grabs SpongeBob and Patrick] Frrrieeendsss. [SpongeBob and Patrick both laugh and Chum Krabs pulls them into the drum of chum, ending the episode]
Community content is available under
CC-BY-SA
unless otherwise noted.