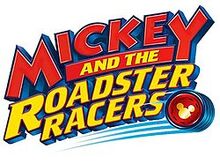 About
Episodes
Season 1 (Roadster Racers)
Season 2 (Super Charged)
Season 3 (Mickey Mouse Mixed Up Adventures)
Mickey's Mixed-Up Motor Lab / Wishy Washy Helpers
One Unicorny Day! / The Happy Horse Helpers!
Animal Antics / Here, Kitty, Kitty, Kitty!
Mickey's Monstrous Truck! / Minnie's Vacation Home!
Mixed-Up for a Day! / Princess Clarabelle!
A Gollywood Wedding! / No Dilly Dally in New Delhi!
Mickey's Thanksgiving Family Fun Race! / Happy Thanksgiving Helpers!
Caution: Kids at Work! / The Snoozy Doozy
Pet and Breakfast! Where's Mickey? / Cuckoo in Hot Dog Hills!
Campy Camper Day! / Founder's Day
Flounder! Goofasaur! / Teahouse Helpers
Papa Pluto/Happy Valentine Helpers
Old McMickey Had a Farm/Happy Lab Helpers
Petey O'Pete/Daisy Does It!
Mickey's New Mouse House/Millie and Melody's Sleepover!
Community content is available under
CC-BY-SA
unless otherwise noted.