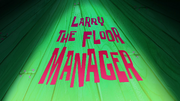 This article is a transcript of the SpongeBob SquarePants episode "Larry the Floor Manager" from season eleven, which aired on September 30, 2017.
Transcript
[The episode begins at the Krusty Krab. There is a long line of customers who are growing tired and impatient from Bubble Bass's order.]
Customers: Just go! Oh, no.
Bubble Bass: Yes, I will have a quad patty, with a sprinkling of Himalayan salt, smoked paprika, and micro greens.
Squidward: Gimme a quad—
Bubble Bass: Hold on. I'm not finished with my order.
Customers: Aw, come on! [some of them turn and leave]
Bubble Bass: I would like my patties be-cheesed, but not just any cheese will do. Have you any aged gouda? [the customers grumble] And yes, it is pronounced "how-uda," not "goo-da."
Mr. Krabs: [growls and taps Bubble Bass's shoulder] Just eat the regular Krabby Patty [shoves a Krabby Patty in Bubble Bass's mouth] and stop wasting everybody's time!
SpongeBob: Mr. Krabs! You know we don't treat our customers like that. [Mr. Krabs is stunned] It says right here, in the Krusty Krab manual. [clears throat and reads] "The customer is always right, when they have money."
Mr. Krabs: Oh! Such wise and beautiful words. Thanks for reminding me, SpongeBob.
SpongeBob: I'm here to serve, Mr. Krabs. [accidentally splatters a dropping of ketchup on the floor]
Mr. Krabs: [growls and screams] Ketchup waster! [SpongeBob whimpers] Oh! Sorry, SpongeBob. I didn't mean it. No more outbursts. I'll be nice Mr. Krabs, I promise.
Squidward: Your napkin. [gives Bubble Bass a napkin, but drops it]
Mr. Krabs: [growls] Waster!
[Mr. Krabs jumps into the cashier boat, but Squidward climbs out and runs away. Mr. Krabs gives Squidward a chase around the restaurant as he rows the cashier boat. Squidward steps on SpongeBob as he runs.]
SpongeBob: Hmm? [gets run over by Mr. Krabs and the cashier boat] Ow! Mr. Krabs! [SpongeBob grabs the cashier boat and his lower half follows] You gotta calm down!
[Mr. Krabs continues to chase Squidward all over the restaurant while dragging SpongeBob. During the chase, SpongeBob's arm entangles everything and every one of the customers inside. Moments later, Larry the Lobster enters the restaurant. Squidward hides behind Larry. Mr. Krabs crashes into Larry.]
Mr. Krabs: Oh! [SpongeBob shouts as he crashes into Larry as well. Mr. Krabs, with SpongeBob on his back, and Squidward climb around Larry] I'll murder-lize him!
Larry: Relax, little crab guy.
Mr. Krabs: [growls] Get your muscled mitts off me! Get off! Get...[sighs happily]
Larry: That's right. Give in to the healing power of my pecs.
SpongeBob: I feel so secure.
Larry: [sighs] All better?
Squidward: What? You let him go? We're all dead! [shouts, crawls into the kitchen and gets burned by the grill] Ow! The grill's still on! [runs out of the kitchen and screams as he is burnt from the grill; SpongeBob splashes Squidward with water; Squidward slips and crashes into the table where Larry and Mr. Krabs are sitting in.]
Mr. Krabs: I don't know what's wrong with me. The Krusty Krab's just been so busy. I never seem to get a break.
Larry: Sounds like someone needs a vacation.
Mr. Krabs: I—I could use some me time.
SpongeBob: And don't worry. Squidward and I can take care of the Krusty Krab while you're gone.
Mr. Krabs: Hmm...
[Mr. Krabs imagines the Krusty Krab completely burnt down with SpongeBob standing in the middle.]
SpongeBob: Order up! [the patty disintegrates]
Mr. Krabs: [screams] I'm sorry, but I can't leave you guys in charge. I need a strong man to run this place—someone who's a rock and can really handle the load, you know? But who has that kind of strength, hmm?
[While Mr. Krabs is talking, Larry lifts him up and down with his claw.]
SpongeBob: Psst, psst! [points to Larry as he stammers excitedly]
Mr. Krabs: That's it! Larry, how would you like to manage the Krusty Krab while I'm on vacation?
Larry: Larry's got his own gym to run.
SpongeBob: Come on, Larry. It'll be fun.
Larry: Larry loves fun! I'm in.
Mr. Krabs: All right! Ah! [gives Larry a high-five, but his claw hits Squidward; he groans]
[The scene changes to SpongeBob continuing his work at the grill. Larry enters the kitchen.]
SpongeBob: Oh, hey, Larry. How you liking your new job?
Larry: Larry likes it just fine. But do the customers always eat like this?
[The customers obnoxiously eat their meals.]
SpongeBob: Oh, no. They normally eat like this! [grabs the patties from the grill and chews heavily on them]
Larry: Those poor people. Someone needs to whip them into shape.
[SpongeBob continues to chew heavily on the patties. He smiles as meat seeps through his teeth. The scene changes to Squidward taking a customer's order.]
Squidward: What'll you have?
Fred: Uh...I'll have a double Krabby Patty, Krabby fries, and uh—whoa! [gets grabbed by Larry and is put on a treadmill]
Squidward: What else?
Fred: Uh, uh—a Krabby soda...Uh, uh—a Krabby...[slips and falls off the treadmill] My leg!
Squidward: [laughs and gets strapped by a stretching band with a motor] Hey! [voice warbling] Can I help you?
Frank: [runs on treadmill] Yeah, I'll take a Krabby salad, dressing on the side, and 60 more minutes on this rad treadmill. [hands Squidward a dollar]
Squidward: [warbling] Here's your change.
[The scene changes to Larry putting a patty on a weight.]
Larry: Here's your order, sir. [gives it to Octavius Rex] And don't forget your side salad! [gives it to Octavius Rex, but the weights are too heavy for him to carry]
Frank: Yeah! Push it, push it!
Larry: Push it, push it!
Octavius Rex: [grunts] Okay, okay. I'll push it. [pushes the weights to the table]
Larry: Push it, push it!
Frank: Yeah, push it!
[Octavius Rex pushes the weight onto the table.]
SpongeBob: Yes, you made it! Now, claim your Krabby Patty!
Octavius Rex: [weakly] Hooray...[drops his face on the salad]
SpongeBob: Aww, too pooped for a Krabby Patty.
Larry: Ah, forget Krabby Patties. Those things are over. [throws away the patty]
SpongeBob: But Larry, Krabby Patties are why people come here.
Larry: Ooh, not anymore. Now we only serve salads and protein power shakes!
SpongeBob: Ooh, power shake! I wanna taste. [takes a sip of the power shake, but spits it out onto the radio as it tasted terrible]
Larry: You like?
SpongeBob: No, Larry. No.
Larry: But it gets you jacked!
SpongeBob: I don't wanna be jacked. I just want my Krabby Patties back.
Larry: Everybody wants to get jacked.
Frank: Yeah, jacked!
[Larry and Frank buff themselves up and show off their muscles.]
SpongeBob: Look, Larry, I really think we should go back to serving Krabby Patties. People love the...
[Larry exhales and relaxes.]
SpongeBob: Larry?
Larry: [stammers] Jacked.
[The scene changes to Larry make some serious changes to the Krusty Krab. He turns the entire dining room into an obstacle course for the customers to run through. SpongeBob and Squidward are serving power shakes while customers run through the course.]
Larry: SpongeBob! Squidward! Let's move it, boys. Get those power shakes out and those heart rates up!
[SpongeBob and Squidward run to serve the power shakes to the customers. SpongeBob climbs the rope and serves the shake to Nat Peterson on the rock-climbing wall. But one of the shakes drops onto Nat Peterson and sends him falling off.]
SpongeBob: Sorry!
[Squidward jumps over some hurdles, but almost gets stepped on by Martin. He laughs in relief, but gets himself squashed by Bubble Bass.]
Squidward: Whoa!
Bubble Bass: [tastes the power shake] Oh! Horrible sustenance.
[SpongeBob cowers behind some weights as everyone in the Krusty Krab is being tortured and pummeled by the strong guys. It soon dawns on SpongeBob that Larry is literally turning the Krusty Krab into a gym. Squidward hides behind the weights with SpongeBob.]
Squidward: Let's get outta here!
[Squidward and SpongeBob run over to a rope net.]
SpongeBob: Pardon my reach.
[Squidward climbs over the rope net, but gets himself tangled in it. SpongeBob struggles to pull Squidward off.]
Squidward: Go on without me! [SpongeBob runs, but is grabbed by Squidward] No, wait, don't.
SpongeBob: Squidward, I know Larry means well, but he's messing up the Krusty Krab! This used to be a shrine to the delicious Krabby Patty. Now it's just a stinky gym.
Larry: [to Fred as he is doing weight-lifting with a salt shaker] Feel...the...burn!
[Fred lifts the barbell high. SpongeBob sprays some deodorant spray on Fred's armpit. The barbell drops on Fred's head and salt spills on his salad plate.]
SpongeBob: Squidward, go tell Larry he's fired.
Squidward: Are you crazy? He is way too big for that. We need to come at this another way—a smart, dignified way! I know—we'll sabotage the place. [a strong guy passes by, drinking a power shake] And I know just where to start: the power shakes.
SpongeBob: I'm on it! [giggles and runs off to the kitchen]
Squidward: Wait, wait—what about me?
SpongeBob: [adds butter to the blender] Butter! [adds lard to the blender] Lard! [adds mayonnaise to the blender] Mayonnaise. [grunts happily as he closes the blender lid]
[SpongeBob turns on the blender and all the ingredients blend together. Once it's done, SpongeBob scoops up some of the mixed up ingredients with a cup and dips it into the fryer.]
SpongeBob: And now, fry it all up into a greasy, heart-stopping surprise! [goes to serve the shake to Larry] Here you go.
[But instead of drinking it, Larry spreads the shake all over his pecs and rubs it like suntan lotion.]
Larry: I'm loving this oily concoction. It really makes Larry's muscles pop! [buffs up, grabs SpongeBob and rubs him over his pecs] Thanks, SpongeBob.
[SpongeBob groans while being rubbed against Larry's pecs. SpongeBob slides off Larry and slides over to Squidward.]
SpongeBob: Okay, that failed. What now?
Squidward: We'll sabotage the weight machines. Then these muscle heads will have to find a new place to work out!
SpongeBob: Gotcha! [runs off]
Squidward: Wait, you idiot! Get me out of here.
[SpongeBob loosens up some nuts and bolts to make one of the weight-lifting machines fragile. Once he was done, Frank comes over to do some work out. He gets himself tangled in the weight machine, but the machine made him become stronger, even though SpongeBob sabotaged it. Frank breaks free and shows off his muscles.]
Frank: Awesome workout, bro!
SpongeBob: Oh, I don't know what to do. I guess this place belongs to the gym guys now. [takes off his hat and leaves]
Squidward: Don't leave me, SpongeBob! Wait, what am I saying?
[Outside, customers are crawling everywhere, dying of hunger.]
Customers: Help us! [groans and moans] Hungry!
[Sandals gnaws on his arm and Bubble Bass eats some sand.]
SpongeBob: What are you all doing out here? You should just go home.
Harold: We can't go home. There's no Krabby Patties at home. I need my Krabby Patties, man! [wailing] You gotta help me!
Customers: Help us! Help! Help!
SpongeBob: Krabby Patties—that's it! Those gym guys have forgotten the simple, greasy pleasure of munching on a Krabby Patty, and we need to remind them.
[The scene changes back inside. Larry and some other strong guys are doing some workouts, when suddenly, they hear something in the kitchen.]
Larry and the gym guys: Huh?
[The door opens. SpongeBob, Bubble Bass and the angry customers confront Larry and his gym guys.]
Larry: SpongeBob, you're ruining Larry's pump sesh.
SpongeBob: Larry, you're ruining the Krusty Krab!
Larry: Get 'em, men!
[Larry's gym guys charge at the customers.]
SpongeBob: Fire!
[The customers fire Krabby Patties with their slingshots. The patties fly into the mouths of the gym guys and they start eating them.]
Gym Guys: Mmm!
Frank: [growls as he corners Bubble Bass] Get over here! [Bubble Bass turns around and SpongeBob shots a patty in Frank's mouth] Mmm. Oh, gimme, gimme! [eats a platter of patties from Gus]
Squidward: Give him a single! Give him a double with cheese! [gets splattered in the face by a patty]
[Nat Peterson does his ninja-like moves while using ketchup and mustard bottles as nunchackus. Nat Peterson jumps in the air and SpongeBob swings on a rope, serving Krabby Patties to the gym guys.]
SpongeBob: Yeah!
[Nat Peterson sprays ketchup and mustard on the patties.]
Gym Guys: Huh? [munches on the patties]
SpongeBob: Give into the flavor, Larry!
Larry: [fights off with his barbells] Never!
SpongeBob: He's too fast. We need a distraction. [pulls out a barbell from his head] Here, use this. [gives it to Bubble Bass and he does some weight-lifting]
Larry: No, you gotta keep your elbow—[SpongeBob shoots a Krabby Patty into Larry's mouth and he chews on it; SpongeBob blows on his slingshot and Larry eventually gives in as he swallows the patty] Oh! Greasy, fatty, sticky, and gummy! It's delicious! Larry's been a fool. I've spent all my time working on my muscles when I could've been working on these delicious sandwiches. [sobbing] What's—what's wrong with me? [his pecs cry]
Bubble Bass: Now those are some sad pecs.
SpongeBob: [walks up to Larry] Aw, don't be sad, Larry. You were just trying to help people get into shape. [hands Larry a tissue and his pecs blow into it; three of Larry's gym guys eat Krabby Patties, but gain weight] Eh—looks like your gym has some new customers.
[The scene changes to Larry and the gym guys carrying their workout equipment out of the Krusty Krab. Squidward, on the other hand, is still tangled up in the rope net.]
Squidward: Somebody let me out of this thing already!
Mr. Krabs: [singing as he comes back from his vacation] Home sweet home. [enters the restaurant] Hmm?
[All of the customers including Patrick are gobbling down the Krabby Patties and things are now back to normal at the Krusty Krab.]
SpongeBob: Order up! [slingshots a patty to Fred]
Mr. Krabs: [sighs happily] Everything's just how I left it.
Community content is available under
CC-BY-SA
unless otherwise noted.