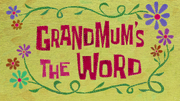 This article is a transcript of the SpongeBob SquarePants episode "Grandmum's the Word" from season eleven, which aired on February 16, 2018.
Transcript
[The episode begins at the Chum Bucket. Plankton puts on a belt, fires up his flamethrower, puts on his wielding mask, and lights up candles with his flamethrower. He jumps onto the tub, turns the faucet prepares a nice, warm mud bath.]
Plankton: [spins with the faucet and flies off] Wah! [crashes into a bouquet of roses, making petals fly all over.]
Karen: [relaxing in the tub with mud as Plankton massages her wheels] Oh, Sheldon. You're so romantic.
Plankton: It's all about you today, Karen.
Karen: Oh, this makes up of a lot of your stupidity lately, Plankton.
Plankton: [dressed in a handsome outfit] Plankton's stepped away for a moment. The name's Ray Ray, and I am at your service, m'lady. [spins Karen's wheel] Pow!
Karen: [wipes the cucumbers and lotion off the screen and shows lips puckering up] Oh, kiss me, pipsqueak. I mean, Ray Ray.
[Plankton and Karen are about to share a kiss. When suddenly, the screen turns off and turns on to show Plankton's grandmother, Lily Plankton.]
Plankton: [sees his grandmother on Karen's screen] Grandma?! I told you never to call me on this screen.
Lily Plankton: Sheldon, [lifts her glasses] is that you?
Plankton: [takes off his suit] Yes, it's me, Grandma. Always nice to hear from you. Okay, gotta go. [pushes Karen]
Lily Plankton: Okay, sweetie. See you tomorrow at 8 AM sharp.
Plankton: Right, see you then. Wait a minute, what? 8 AM? Um, what's happening at 8 AM, Grandma?
Lily Plankton: Don't you remember, silly? You promised me you'd own [holds up a picture of the Krusty Krab] the Krusty Krab by my 90th birthday. Well, my 90th is tomorrow! You do own the Krusty Krab now, right?
[Plankton gets a bit nervous. But inside his brain, a tiny version of himself blows up a mountain to form the word, "lie."]
Plankton: Lie, that's it! [zooms back to Plankton] Uh, you're darn right I own the Krusty Krab, Grandma, and I can't wait to give you the grand tour, uh, tomorrow morning.
Lily Plankton: Aww, see you then.
Karen: [turns off screen and smacks Plankton] That smack was for Plankton. [shows Ray Ray on the screen] Now bring back Ray Ray. [puckers up]
Plankton: Oh, what am I gonna do, Karen? How am I gonna fool Grandma tomorrow?
Karen: Oh, okay, I guess bath time is over. [steps out of the bath tub and wraps a towel around] Why don't you and Ray Ray take a long walk off a short plank?
[Karen turns her screen and kicks Plankton out with a boot. Plankton flies out of the Chum Bucket and lands onto the ground.]
Plankton: [gets up] Gotta think, gotta think. [pulls out his brain attached to his antennas] Come on, brain! [smacks it, beats it up, and swallows it back in his head through his eye]
SpongeBob: [holding an arrow] This way to the Krusty Krab! Pull right in and order a Krabby Patty! [flips the arrow around and around; he throws it in the air] Whoo! [he bounces the arrow on his butt] Whoop, whoop. [flips it over] Ooh. [spins it with his tongue] Aah. [he throws it in the air, making it fly up to the surface and it goes back down again; SpongeBob continues to play with the arrow until he gets tired] Whew. '[throws it up again, but it falls on his head] Ow! [gets up and struggles to pull it out]
Plankton: SpongeBoob, you gotta help me.
SpongeBob: [pulls the arrow out] Sorry, Plankton, what can I do to help you?
[The arrow falls on top of Plankton.]
Plankton: [gets up with the arrow] This is not an evil scheme. [uses the arrow to explain his dilemma to SpongeBob] The truth is I promised my grandma I would own the Krusty Krab by her 90th birthday. So, I need Krabs to play pretend tomorrow and fool my grandma into believing I'm the new owner, otherwise she will think I'm a big loser. Got it? [throws away the arrow]
SpongeBob: [his face spins after Plankton finishes, but stops it on time] Well, I believe you, Plankton, but I'm not sure Mr. Krabs is gonna buy it.
Mr. Krabs: I'm not gonna buy what?
French Narrator: One Pathetic Sob-Story Later...
Mr. Krabs: I ain't buying it! This whole grandma thing sounds just like another phony plot to steal me formula.
Plankton: I was hoping I wouldn't have to resort to this, Eugene, but... [rips his body open to reveal his sweet, innocent self inside; his innocent side whimpers with his eye wide open]
Mr. Krabs: [gasps] SpongeBob, there's something wrong with his eye.
SpongeBob: That's Plankton's rarely seen sincere face, Mr. Krabs, and it means for once he is telling the truth.
Mr. Krabs: [teary eyed] You know, [shows a tattoo of his grandmother on his chest] I have a grandma too.
SpongeBob: Aww.
Mr. Krabs: [sobs] All right, I buy it. [SpongeBob gasps]
Plankton: Thank you.
[The scene changes to Mr. Krabs opening the safe in the office.]
Mr. Krabs: First things first. [takes the formula and swallows it; he closes the safe] That should keep it safe for six to eight hours. [speaks through megaphone] All right, me pretties, let's make this place pro-Plankton pronto! [flicks Plankton]
[SpongeBob kicks Mr. Krabs' desk and replaces it with a smaller desk for Plankton. Plankton puts the name plate with the word, "Owner" on his desk. Squidward replaces the cash register with a Plankton-themed one. Mr. Krabs takes the cash register and swallows it. SpongeBob replaces the Galley Grub menu with the Planky Plates menu. Squidward puts up the banner with the words, "Happy 90th B-Day" on it. SpongeBob swallows some balloons and blows them up inside his body. He float in the air with the balloons. Squidward and SpongeBob cover the word, "Krab" with a plank that spells "Plankton" on the Krusty Krab sign. A customer throws away his food in a Plankton-themed trash can. SpongeBob puts Plankton hats on the heads of three customers. SpongeBob replaces a couple's soda with a Plankton-themed soda cup. SpongeBob paints the tables to look like Plankton's eye. SpongeBob and Squidward paint the outside of the restaurant to make it look like Plankton. Mr. Krabs puts the sign, "Plankton Owner" on his office door.]
Mr. Krabs: Now everyone remember, for the rest of the day, Plankton is the— [stammers] Plankton's boss.
[A bus pulls over at the Krusty Krab, now the Krusty Plankton. Lily Plankton comes out and meets up with Plankton and Karen.]
Plankton: Hi, Grandma. Happy birthday.
Karen: Nice to see you again, Grandma Plankton.
Lily Plankton: [lifts her glasses] Ugh. Who invited C-Pee-Eww? [laughs]
Karen: [feels rejected] All right, I tried. [she leaves angrily, running Plankton over]
Plankton: Owuh! [unsticks his squished body from the road] Let me help you with your bag, Grandma. [gets smacked in the face by Lily's purse] Ouch!
[Plankton escorts his grandmother into the restaurant.]
Plankton: Well, here we are, Grandma. Welcome to the Krusty Plankton. I named it after you.
Lily Plankton: [pinches Plankton's cheek] Oh, well, aren't you a sweet grandson? [sees SpongeBob and Mr. Krabs] Who are they?
Plankton: They're just my employees, Grandma. Meet SpongeBob and Eugene.
SpongeBob and Mr. Krabs: Hello, Grandma Plankton.
Lily Plankton: They look like very nice boys, and I'll bet they're even nicer when they're working.
Plankton: You heard, Grandma! We ain't running a welcome wagon here! Get back to work!
[SpongeBob runs back and forth until he jumps back into the kitchen.]
Mr. Krabs: [chuckles] Yeah, sure thing, Plankton.
[Mr. Krabs laughs until Plankton pushes a bucket of cleaning supplies onto Mr. Krabs, making him fall flat on his face on the floor.]
Plankton: [pokes Mr. Krabs' eye] That's Mr. Plankton to you, busboy.
Mr. Krabs: [sarcastically] Sorry, Mr. Plankton. It won't happen again. [pushes himself away]
Lily Plankton: [sees Squidward sleeping] Oh, look, that one's napping on the job.
[Plankton and Lily hop onto the table Squidward is sleeping on.]
Plankton: [loudly] Nap time's over, loafer!
Squidward: [gets up] Okay, who's the wise guy?
Lily Plankton: [becomes head-over-heels with Squidward] Ohh. [sees a vision of Squidward being a very handsome man] Oh, my goodness! Who is this handsome young man?
Plankton: Oh, that's Squidward. He's nobody. Moving along...
Lily Plankton: [jumps on Squidward's nose] Mm. Squidward. Didn't we meet at an early bird dinner?
SpongeBob: Ooh, I think someone has a not-so-secret admirer! [laughs until Lily whacks him with her purse] Ow! [flies back into the kitchen]
Squidward: [takes Lily off his nose] All right, lady, I don't normally say this, [drops Lily on the table] but get off my nose.
Plankton: [quietly] Go along with it, Squidward.
Mr. Krabs: [quietly] Or you're fired.
Squidward: [sighs and puts Lily back on his nose] So, Grandma Plankton, where have you been all my life?
Lily Plankton: [chuckles] Call me Lily. [kisses Squidward]
Plankton: Okay, Grandma, you're embarrassing me now.
Lily Plankton: [hops onto Squidward's head] To the kitchen, Squidward.
[Squidward grumbles and carries Lily into the kitchen, much to Plankton's delight. The scene changes to SpongeBob cooking patties on the grill.]
Plankton: Try one of our Planky Patties, Grandma. Fresh off the grill.
[SpongeBob flips a patty. Plankton holds up the buns, adds condiments to the patty and makes the perfect sandwich.]
Lily Plankton: [takes out her false teeth] I'll need my teeth for this. [drops them] Whoops. [her teeth drops onto the grill and it melts] Oops. I dropped my choppers. Oh, well. I guess Squidward will have to chew it for me.
Squidward: Oh, sure, I'll—what?! [Mr. Krabs opens Squidward's mouth] Aah.
[SpongeBob throws the patty in Squidward's mouth and Mr. Krabs forces him to chew it.]
Lily Plankton: [chuckles] That's it, chew it up real good. That's enough. My turn.
[Mr. Krabs forces Squidward to stick out his tongue.]
Squidward: Aah.
[Plankton pushes Squidward's tongue upwards and feeds his grandmother the chewed up patty.]
Lily Plankton: Aah. [eats it up and swallows it] Delicious.
SpongeBob, Squidward, Mr. Krabs, and Plankton: [disgusted] Ew!
Lily Plankton: Oh, Sheldon, you've outdone yourself. You really are a master chef.
[Mr. Krabs grumbles and knaws on his claw in anger. The scene changes to Lily getting ready to leave.]
Lily Plankton: Thank you, Sheldon. [pinches Plankton's cheek] You've really made my birthday something extra special this year.
Plankton: All right, Grandma. [gives his grandmother her purse and she heads out the door] Got your bag? You are out the door and that is that.
Lily Plankton: [comes back in] Oh, just one more thing.
[SpongeBob, Mr. Krabs, and Squidward groan.]
Lily Plankton: My last birthday wish is to get a photo of me posing with the Krabby Patty secret formula.
[Plankton makes that sweet, innocent face again.]
Plankton: [whimpers] Krabs?
Mr. Krabs: Fine. Anything to get that bag with the bag out of here. [pulls off his head, digs in his body and gives Plankton and his grandmother the formula; Plankton groans as the formula crushes him]
SpongeBob, Mr. Krabs, and Squidward: [holding cameras] Say cheese.
Plankton and Lily Plankton: Cheese.
[Suddenly, Lily's purse turns into rocket boasters and flies away with Plankton and the formula.]
Lily Plankton: Ahhh!
[SpongeBob, Mr. Krabs, and Squidward scream.]
Lily Plankton: [laughs] Finally, the secret formula is mine!
Mr. Krabs: I knew your sincerity was insincere, sir!
Plankton: I didn't know anything about this, Eugene, honest! But I love it! Now we can rule the world as a family, eh, Grandma?
Lily Plankton: [laughs maniacally with Plankton] Sorry, Sheldon, but I'm not sharing the formula with you! [kicks Plankton off]
Plankton: [falls] But Grandma! [falls on a packet of ketchup]
Lily Plankton: Adios, mi amour! Mmmm. [blows a kiss onto Squidward, causing him to fall over]
[Lily laughs maniacally as she leaves the restaurant through the roof.]
Plankton: Why? Why did I lie? [pulls his antennas off his head]
SpongeBob: Why? Why did I pretend? [twists his body]
Mr. Krabs: Why? [opens his empty chest] Why did I give her my formula?
Squidward: [speaking on the phone] Why? Why wouldn't we be open on Tuesday? Idiot! [hangs up the phone and pouts]
SpongeBob, Mr. Krabs, and Plankton: What have we done?
[Lily Plankton flies over to Shady Shoals Rest Home with the secret formula and sits on her chair with it.]
Lily Plankton: I have the secret formula! [laughs] This world is mine!
[Lily daydreams about being an evil, tyrannical overlord with Squidward as her husband. They are sitting on top of the Krusty Krab, now Granny Plankton's Krabby Patties. Below the restaurant, SpongeBob, Plankton, Patrick, Mr. Krabs, Sandy and everyone in Bikini Bottom grovel over her as if she is their lord and mistress.]
Everyone: [chanting] Grandma! Grandma! Grandma!
Lily Plankton: [chuckles] Darling, [pokes Squidward on the head with her staff] why don't you toss the peasants a little something?
[Squidward throws a patty down to them. Everyone goes for the patty and starts fighting over it.]
Fred: My leg!
[Lily laughs maniacally, but falls asleep. As she sleeps, everything goes back into reality. Unknown to her, Plankton, Mr. Krabs and SpongeBob are watching her sleep.]
Mr. Krabs: [takes the formula and replaces it with prune juice] I'll take that, thank you very much. [swallows the formula] Safe and sound.
Plankton: [covers his grandmother with a blanket] Happy birthday, Grandma. [kisses her as she whacks him with her purse, knocking out several of his teeth]
Community content is available under
CC-BY-SA
unless otherwise noted.