Warning
This Article contains information marked as Mature. In other words, it will have an adult theme and contain scenes and storylines which are unsuitable for readers under 18 years of age. The content on this page is likely to contain: Sex, Language, Drugs, Alcohol, Nudity, Violence & Cursing.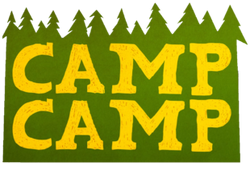 Pilot
Camp Campbell Wants YOU!
Season 1
Escape from Camp Campbell
Mascot
Scout's Dishonor
Camp Cool Kidz
Journey to Spooky Island
Reigny Day
Romeo & Juliet II: Love Resurrected
Into Town
David Gets Hard
Mind Freakers
Camporee
The Order of the Sparrow
Season 2
Cult Camp
Anti-Social Network
Quest to Sleepy Peak Peak
Jermy Fartz
Jasper Dies at the End
Quartermaster Appreciation Day
Bonjour Bonquisha
Gwen Gets a Job
Eggs Benefits
Space Camp Was a Hoax
Cookin' Cookies
Parents' Day
Season 3
TBA
Holiday Specials
NIGHT OF THE LIVING ILL
A Camp Camp Christmas, or Whatever
Community content is available under
CC-BY-SA
unless otherwise noted.