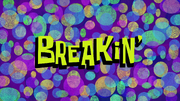 This article is a transcript of the 
SpongeBob SquarePants
episode
"Breakin'"
 from season twelve, which aired on September 14, 2019.
Transcript
[The episode begins at another day at the Krusty Krab. SpongeBob is happily flipping patties and humming to himself. Suddenly, Mr. Krabs and a man in a suit comes in the kitchen.]
Mr. Krabs: SpongeBob! Spatula down, sailor!
SpongeBob: [drops his spatula] What's going on, Mr. Krabs?
Mr. Krabs: According to the nice man from the Labor Authority, it's time for your break, boy-o.
SpongeBob: [confused] We get breaks?
Labor authority officer: [very angry] Krabs!
Mr. Krabs: [chuckles nervously] Well, of course you do, boy-o. Why, if I don't give you a five-minute break once every 20 years, this lovely man could fine me big bucks. [guides SpongeBob out of the kitchen]
SpongeBob: Nice meeting you.
Mr. Krabs: [sits SpongeBob on a table] And you don't want me to get fined, do you?
SpongeBob: [gasps] No! Never.
Mr. Krabs: Good! Then you just sit here and don't do or say nothing for five minutes [sees the labor authority officer in front of him] Oh—and enjoy your break. [laughs and walks off as the labor authority officer follows]
[SpongeBob sits quietly for a little while. He whistles to himself to pass the time. SpongeBob looks at the table and gasps when he sees a spot on it. He opens his face, grabs a cleaning spray and a rag and attempts to clean it.]
Mr. Krabs: [appears below the table] SpongeBob! What are you doing?!
SpongeBob: Uh, I just spotted a spot.
Mr. Krabs: You can't work on your break, boy-o! Period! Remember the fines?
Labor authority officer: [overhears it and gets real angry] I knew it! I've had my eye on you for years, Krabs! Oh, this violation is really gonna cost you! [looks through his list of fines given for the Krusty Krab] Hmm...
Mr. Krabs: [yelps] Oh, I can see we're gonna have to take drastic measures here.
[Mr. Krabs rushes to the wall and smashes through it between the kitchen and the restrooms. He takes a mallet and breaks down the wall, revealing the employee break room.]
SpongeBob: [reads the sign on the door] "Employee break room?" I never knew this was here!
[Mr. Krabs opens the door and turns on the light. It shows that the employee break room has not been used in years. It is covered in dust and cobwebs. Poison sea urchins crawl out from the room. SpongeBob looks around and see just how filthy the room is. But despite all that, he doesn't seem to mind it at all.]
SpongeBob: [gasps] Oh, it's beautiful! Like stepping through a portal into the magical realm beyond!
Mr. Krabs: Yeah, whatever. Five minutes! [closes the door]
SpongeBob: I just hope there's enough time to enjoy everything. [opens an old refrigerator and sees old hot dogs in there] Ooh!
[SpongeBob takes the hot dogs and sticks them together with toothpicks to form a sausage carousel. He puts it in a microwave to heat up and watches it spin around.]
SpongeBob: Ooh. [laughs] Enjoy your carousel, my little hot dog friends. [laughs as he skips away]
[The hot dogs get so hot that they melt and burn in the microwave. Then they explode inside.]
SpongeBob: [pretending to surf as he rides on a chair in front of a wave poster] Surf's up! [falls over] Wipe out.
[The scene changes to SpongeBob taking out containers of old, moldy food. He opens one and the bad odor is let out. SpongeBob takes some moldy food, sniffs it and eats it.]
SpongeBob: I think this used to be...creamed corn!
[One moldy food comes to life.]
Blobby: Sorry, bub. Ha! I was meatloaf before I expired. [laughs and gives SpongeBob a high-five]
SpongeBob: Oh, Globby, you're so silly. [laughs until he starts to feel sick as his body slowly turns green and crumbles to the floor]
[The scene changes to SpongeBob making a band out of cleaning products.]
SpongeBob: Voilà! My break room band. Scrubby and the Cleaning Crew. Hmm... [looks at the control panel on one of his creations] Let's see if I wired everything right. [the panel sparkles; looks at the microwave and it sparkled too] Perfect. [uses the microwave as an electric guitar] Yeah!
[SpongeBob pumps up the music and uses steel wool as a disco ball. Meanwhile, the customers hear SpongeBob's music playing through the break room door.]
Gale Rechid: Huh? [hears music through the door] Ooh, music. I didn't know the Krusty Krab had a lounge. [throws her meal aside] Ooh! [opens the door and sees SpongeBob playing music]
[The other customers peak in and notices SpongeBob's music playing.]
Sandals: Shake a leg!
SpongeBob: Oh, come on in, everyone. Try the funk, it's fresh.
[All of the customers enter the break room and joins SpongeBob's dance party. Nat spins around on the floor and drills himself down. The moldy food gets into the groove as well.]
Blobby: [dances with a sea urchin] I sure dig that! There we go, yes!
[Meanwhile, Mr. Krabs exits his office and notices the restaurant completely empty.]
Mr. Krabs: Huh? Where'd all me paying customers go? [his eyestalks start feeling the musical beat] What—[stops his eyestalks from moving] Ow! What the— [opens the break room door and sees everyone dancing to SpongeBob's music] A party?! I don't remember charging anyone for a party on me premises!
[The labor authority officer was enjoying himself in the party as well.]
SpongeBob: Oh, yeah!
Mr. Krabs: [turns on the light] All right, that's it! Five minutes are up, SpongeBob! Break's over, everyone out! Everyone out! Out, out, out, out, out!
[All of the customers including the labor authority officer exit the break room in sadness.]
Labor authority officer: You're in compliance this time, Krabs. [gives Mr. Krabs the clipboard and turns to the customers] After-break at my house!
[The customers cheer and leave the Krusty Krab to have a party at the labor authority officer's house.]
SpongeBob: [exits the break room] Oh, Mr. Krabs, that was so much fun! I can't wait for my next break in 20 years!
[Mr. Krabs closes the door and hammers it shut with wood. Then he seals it up with bricks, more wallpaper and steel. Then puts a large boulder in front of it so no one can see the entrance to the break room.]
Mr. Krabs: [sighs and rubs the dust off his claws] Well, I'm glad you enjoyed it, boy-o, 'cause it's time you got back to making me money.
SpongeBob: Yes, sir, Mr. Krabs!
[Mr. Krabs laughs as he heads back to his office. SpongeBob heads back into the kitchen to resume his job. He comes back out and notices the register boat is empty. Squidward is no where to be seen.]
SpongeBob: Hmm, wonder where Squidward got to. Oh, well. [heads back to the kitchen]
[The screen zooms back into break room and Squidward is relaxing inside. Squidward appears to be unaware that Mr. Krabs inexplicably trapped him inside. But as he sighs happily, he doesn't seem to care if he's stuck in the break room forever.]
Blobby: Hey, bub, have you seen my lid anywhere?
Squidward: [kicks Blobby away] Sorry, I'm on my break.
Community content is available under
CC-BY-SA
unless otherwise noted.