[incomplete]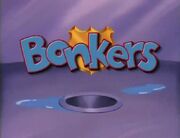 Bonkers is a 1993 animated television show produced for the Disney Afternoon in the Fall of 1993. However, due to several production mishaps, the Miranda Wright episodes ended up airing on the Disney Channel in February 1993, while the official run of the show aired on the Disney Afternoon with the Lucky Piquel episodes on September 4th, 1993.
Miranda Wright episodes (Group 1)
Trains, Toons, and Toon Trains
Tokyo Bonkers
The Stork Exchange
Bobcat Fever
The Toon that Ate Hollywood
When the Spirit Moves You
Fistful of Anvils
What You Read is What You Get
Toon for a Day
Lucky Piquel episodes (Group 2)
Going Bonkers (Part 1)
Gone Bonkers (Part 2)
In the Bag
Hear No Bonkers, See No Bonkers
Out of Sight, Out of Toon
Is Toon Fur Really Warm?
Calling All Cars
Fall-Apart Bomb Squad
In Toons We Trust
Never Cry Pig
Hamster Houseguest
The Cheap Sheep Sweep
The Day the Toon Stood Still
Weather or Not
Basic Spraining
Once in a Blue Toon
Luna-Toons
Time Wounds All Heels
Poltertoon
Hand Over the Dough
Tune Pig
Miranda Wright episodes (Group 3)
New Partners on the Block
Do Toons Dream of Animated Sheep?
Witless for the Prosecution
Quibbling Rivalry
Springtime for the Iguana
Casabonkers
Love Stuck
Of Mice and Menace
Dog Day Aftertoon
The 29th Page
Cartoon Cornered
Lucky Piquel episodes (Group 4)
The Good, the Bad, and The Kanifky
I Oughta Be in Toons
Frame that Toon
A Wooly Bully
Stay Tooned
Color Me Piquel
Stand-In Dad
Cereal Surreal
The Dimming
The Toon with No Name
Get Wacky
The Final Review
Seems Like Old Toons
Miracle at the 34th Precinct
Comeback Kid
The Greatest Story Never Told
Fall-Apart Land
Imagine That
A Fine Kettle of Toons
Stressed to Kill
Raw Toonage Compilations
The Rubber Room Song
O Cartoon! My Cartoon!
If
Goldijitters and the 3 Bobcats
Community content is available under
CC-BY-SA
unless otherwise noted.